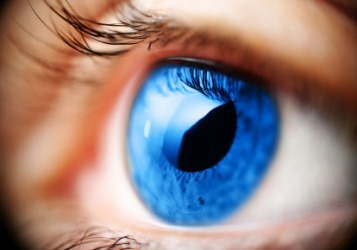 A close up of an eyeball.
---
eyeball
noun
the ball-shaped part of the eye, enclosed by the socket and eyelids
transitive verb
,
intransitive verb
Informal
to observe, examine, measure, etc. (something) visually
eyeball to eyeball
Slang
in direct personal contact; person to person
---
eyeball
noun
The globe-shaped portion of the eye surrounded by the socket and covered externally by the eyelids.
The eye itself.
An overhead light fixture that is mounted on a swivel in a recessed socket so the light can be directed in any direction.
transitive verb
eye·balled
,
eye·ball·ing
,
eye·balls
Informal
To look over carefully; scrutinize.
To measure or estimate roughly by sight: eyeballed the area of the wall that needed paint.
---
eyeball
Verb
(third-person singular simple present eyeballs, present participle eyeballing, simple past and past participle eyeballed)
To gauge, estimate or judge by eye; to look or glance at.

A good cook can often just eyeball the correct quantities of ingredients.
Each geometric construction must be exact; eyeballing it and getting close does not count.

To scrutinize
---
eyeball - Computer Definition
---