scrutinize
scru·ti·nize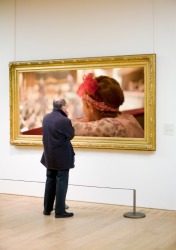 A man scrutinizes a picture.
verb
To scrutinize is to look at something very closely or very carefully.

An example of scrutinize is when you study a painting on the wall to pick up every tiny detail.
---
scrutinize
-·nized·

,

-·niz·ing
to look at very carefully; examine closely; inspect minutely
Origin of scrutinize
; from scrutiny + -ize
---
scrutinize
transitive verb
scru·ti·nized
,
scru·ti·niz·ing
,
scru·ti·niz·es
To examine or observe with great care; inspect critically.
Related Forms:
scru′ti·niz′ing·ly

adverb
---
scrutinize
Verb
(third-person singular simple present scrutinizes, present participle scrutinizing, simple past and past participle scrutinized)
---