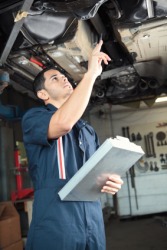 A mechanic inspects an automobile.
verb
The definition of inspect is to carefully look over someone or something, especially to determine if minimum criteria or standards are met.

When you are checking how well someone dusted and you use a white glove to run it along surfaces to test whether the dusting was done well, this is an example of when you inspect the dusting.
---
inspect
to look at carefully; examine critically, esp. in order to detect flaws or errors
to examine or review (troops, etc.) officially
Origin of inspect
Classical Latin
inspectare
, frequentative from
inspectus
, past participle of
inspicere
, to look into, examine from
in-
, in, at +
specere
, to look at: see spy
---
inspect
transitive verb
in·spect·ed, in·spect·ing, in·spects
To examine carefully and critically, especially for flaws.
To review or examine officially: The commander inspected the troops.
Origin of inspect
From
Latin
īnspicere
īnspect-
in-
intensive pref.
; see
in-
2
.
specere
to look at
; see
spek-
in Indo-European roots.
Related Forms:
---
inspect

Verb
(third-person singular simple present inspects, present participle inspecting, simple past and past participle inspected)
To examine critically or carefully; especially, to search out problems or determine condition; to scrutinize.

Inspect the system for leaks.

To view and examine officially.

The general inspected the troops and their barracks.
Origin
From Latin inspectum, past participle of inspicere ("to look into"), from in + spicere ("to look at")
---