lamp

lamp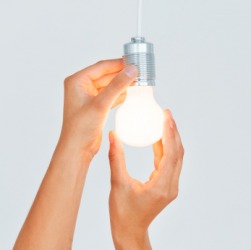 A light bulb is a lamp.
noun
The definition of a lamp is a device that produces light or a container for such a device.

An example of a lamp is an electric light bulb.
---
lamp
a container with a wick for burning oil, alcohol, etc. to produce light or heat: the wick is often enclosed in a glass tube or chimney, to protect the flame
a gas jet, lightbulb, etc. for producing light or heat
a holder, stand, or frame, often decorative and typically including a lampshade, for supporting such a gas jet or for holding a lightbulb
a source of knowledge, wisdom, or spiritual strength

Old Poet.

the sun, moon, a star, etc.
[pl.]

Slang

the eyes
Origin of lamp
Middle English
lampe
from Old French from Vulgar Latin
lampade
from Classical Latin
lampas
(gen.
lampadis
) from Classical Greek from
lampein
, to shine from Indo-European base an unverified form
lap-
from source Latvian
l?pa
, torch
---
lamp
noun
Any of various devices that generate light and often heat, especially:

a. An electric device having a socket for a light bulb, especially a free-standing piece of furniture.

b. A device that gives off ultraviolet, infrared, or other radiation, used for therapeutic purposes.

c. A light bulb: a spotlight fitted with a metal-halide lamp.

d. A vessel containing oil or alcohol burned through a wick.

e. A lantern or fixture that gives off light by burning gas, usually by means of a mantle.

Archaic A celestial body that gives off or reflects light.
Origin of lamp
Middle English
lampe
from
Old French
from
Latin
lampas
from
Greek
from
lampein
to shine
---
lamp

---
lamp - Computer Definition
(Linux, Apache, MySQL, PHP) The common set of system software and programming languages used in a Linux-based Web server. They are the Linux operating system, Apache Web server software and MySQL database management system (DBMS). Applications are programmed in PHP, but also in the Perl and Python languages. A LAMP application is a non-Windows environment; however, there is a Windows equivalent: WAMP is Windows, Apache, MySQL and PHP. MAMP and xAMP In the Mac world, the Mac OS X operating system replaces Linux, resulting in MAMP: Mac, Apache, MySQL, PHP. The acronym xAMP refers to any and all operating systems used with AMP software: X=cross platform, Apache, MySQL and PHP. See Linux, Apache, MySQL, PHP, Perl, Python and MEAN.
---