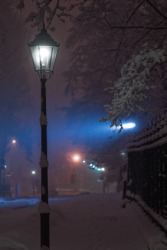 A street lit by gaslight.
---
gaslight
noun
the light produced by burning illuminating gas
a gas jet or burner
adjective
of or suggesting the period when gaslight was used for lighting: gaslight melodrama
---
gaslight
---
gaslight
Noun
(plural gaslights)
(UK) A lamp which operates by burning gas.
Verb
(third-person singular simple present gaslights, present participle gaslighting, simple past and past participle gaslighted)
(slang) To manipulate someone psychologically such that they question their own sanity.
---