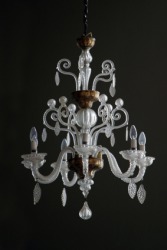 A crystal chandelier.
noun
The definition of a chandelier is a decorative light that hangs from the ceiling and that has branches for light bulbs or candles.

A crystal light fixture that hangs from the ceiling over your dining room table and that has five different branches, each of which accommodates a light bulb, is an example of a chandelier.
---
chandelier
a lighting fixture hung from a ceiling, with branches for candles, lightbulbs, etc.
Origin of chandelier
French from Old French
chandelabre
from Classical Latin
candelabrum
from
candela
, candle
---
chandelier
noun
A branched, decorative lighting fixture that holds a number of bulbs or candles and is suspended from a ceiling.
Origin of chandelier
Middle English
chandeler
from
Old French
chandelier
from
Vulgar Latin
candēlārium
alteration of
Latin
candēlābrum
candelabrum
; see
candelabrum
.
---
chandelier

Noun
(plural chandeliers)
(auction) A fictional bidder used to increase the price at an auction. Also called a wall.
1994, Todd A. Shallat, Structures in the Stream: Water, Science, and the Rise of the U. S. Army Corps of Engineers, University of Texas Press, p. 32.

Europeans solved this problem by building a temporary fence with tightly bound sticks ("fascines") stacked into wooden frames ("chandeliers").
---