incandescent
in·can·des·cent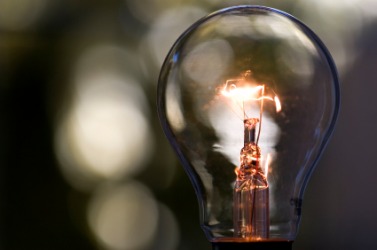 An incandescent light bulb.
adjective
The definition of incandescent is something that creates light when heated.

A light bulb that creates light when heat passes through a filament is an example of an incandescent light.
---
incandescent
glowing with intense heat; red-hot or, esp., white-hot
very bright; shining brilliantly; gleaming
of or having to do with lighting by means of incandescent lamps
Origin of incandescent
Classical Latin
incandescens
, present participle of
incandescere
: see in- and candescent
---
incandescent
adjective
Emitting visible light as a result of being heated.
Shining brilliantly; very bright. See Synonyms at bright.
Characterized by ardent emotion, intensity, or brilliance: an incandescent performance.
Of or relating to a light bulb containing a filament that is heated to incandescence by an electric current.
noun
An incandescent light bulb.
A lamp that is fitted with an incandescent light bulb.
Related Forms:
in′can·des′cent·ly

adverb
incandescent
incandescent bulb
---
incandescent

Noun
(plural incandescents)
An incandescent lamp or bulb
---