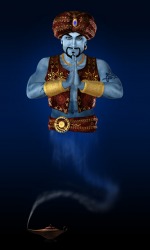 A genie emerges from his lamp.
noun
The definition of a genie is a spirit or imaginary creature that will appear when you rub a magic lamp and grant wishes.

The wish-granting supernatural figure voiced by Robin Williams in Aladdin who came out of the bottle and who granted Aladdin three wishes is an example of a genie.
---
genie
a jinn, now, esp., one in fables and stories who is confined to a lamp or bottle and who grants the wishes of whoever releases him
Origin of genie
French
génie
( from Classical Latin
genius
: see genius), used to translate Arabic
jinn?
, jinni from
jinn
, jinn
---
genie
noun
A supernatural creature who does one's bidding when summoned.
A jinni.
Origin of genie
French
génie
guardian spirit, tutelary deity, later also jinni
(
sense influenced by
Arabic
jinnī
jinni
)
from
Latin
genius
guardian spirit
; see
genius
.
---
genie

Noun
(plural genii or genies)
(Islam) An invisible spirit mentioned in the Qur'an and believed by Muslims to inhabit the earth and influence mankind by appearing in the form of humans or animals.
A fictional magical being that is typically bound to obey the commands of a mortal possessing its container.
---
genie - Computer Definition
An online information and bulletin board service that closed its doors at the end of 1999, much to the dismay of its many users, some of whom were still chatting when the plug was pulled. Genie (General Electric Network for Information Exchange) was set up as a joint venture between GE and Ameritech in 1985, and in time was acquired by Yovelle Renaissance Corporation and then by IDT in the mid-1990s. Its roundtable discussions, chat lines, games and Internet access attracted a niche of science fiction aficionados as well as horror and fantasy writers. The growth of other online services affected Genie's traffic, which in those early days, peaked at some 400,000 users. See online service. See also Jini.
---