electric

e·lec·tric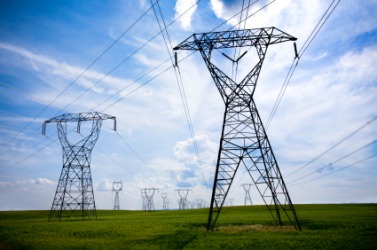 Electric power lines.
adjective
The definition of electric is charged with or producing electricity, or very exciting or tense.

An example of something electric is a hairdryer.
An example of something electric is a wild light show.
noun
Electric is defined as powered by electricity.

An example of electric is a type of stove that works using electricity and not gas.
---
electric
of, charged with, or conducting electricity: an electric wire
producing, or produced by, electricity: an electric generator
operated by electricity: an electric iron
made or designed to generate sound primarily through electronic amplification: said of certain musical instruments: electric guitar, bass, etc.
very tense or exciting; electrifying
designating a color that is very bright or metallic: electric blue
Origin of electric
Modern Latin
electricus
(coined, 1600, by William Gilbert), literally , produced from amber by rubbing from ML, of amber from Classical Latin
electrum
, amber, electrum from Classical Greek
?lektron
, akin to
?lekt?r
, shining, the sun from uncertain or unknown; perhaps
a train, car, etc. operated by electricity
---
electric
adjective
also e·lec·tri·cal Of, relating to, producing, or operated by electricity: electric current; an electrical device.

a. Of or related to sound created or altered by an electrical or electronic device.

b. Amplified by an electronic device: an electric guitar.

a. Emotionally exciting; thrilling: an electric reading of the play.

b. Exceptionally tense; highly charged with emotion: an atmosphere electric with suspicion.
noun
An electrically powered machine or vehicle: Our mower is an electric.
Origin of electric
New Latin
ēlectricus
deriving from amber, as by rubbing
from
Latin
ēlectrum
amber
from
Greek
ēlektron
Related Forms:
---
electric

Adjective
(not comparable)
Of, relating to, produced by, operated with, or utilising electricity; electrical.
Of, or relating to an electronic version of a musical instrument that has an acoustic equivalent.
Being emotionally thrilling; electrifying.
Drawing electricity from an external source; not battery-operated; corded.

Is that a rechargeable vacuum? No, it's electric.
Noun
(usually uncountable, plural electrics)
(informal) Electricity.
(rare) An electric car.
(archaic) A substance or object which can be electrified; an insulator or non-conductor, like amber or glass.
Origin
From New Latin ēlectricus ("of amber"), from Ancient Greek ἤλεκτρον (ēlektron, "amber"), related to ἠλέκτωρ (ēlektor, "shining sun").
---