invalid

in·val·id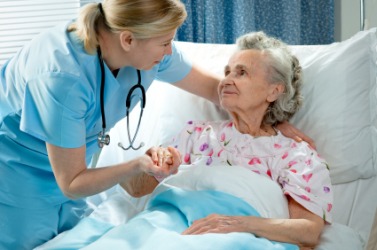 An elderly invalid.
adjective
Invalid is defined as not correct or provable or not legally recognized.

An example of invalid is a theory that has been proven wrong.
An example of invalid is a marriage without a proper marriage license.
noun
The definition of an invalid is a sick, weak person.

An example of an invalid is a feeble old woman in a hospital who cannot walk.
---
invalid
not well; weak and sickly; infirm
of or for invalids: an invalid home
Origin of invalid
French
invalide
from Classical Latin
invalidus
, feeble: see in- and valid
a weak, sickly person; esp., one who is chronically ill or disabled
to make invalid; disable or weaken

Chiefly Brit.

to remove (a soldier, sailor, etc.) from active duty or from a combat zone because of injury or illness
not valid; having no force; null or void
Origin of invalid
Classical Latin
invalidus
---
invalid
noun
One who is incapacitated by a chronic illness or disability.
adjective
Incapacitated by illness or injury.
Of, relating to, or intended for invalids.
transitive verb
in·va·lid·ed, in·va·lid·ing, in·va·lids
To incapacitate physically.
Chiefly British To release or exempt from duty because of ill health: "I was not quite sick enough to be invalided out, even though I was of no more use" ( Mary Lee Settle )
Origin of invalid
From
invalid
2
(
influenced by
French
invalide
sickly, infirm
)
adjective
Not legally or factually valid; null: an invalid license.
Falsely based or reasoned; faulty: an invalid argument.
Origin of invalid
Latin
invalidus
weak
in-
not
; see
in-
1
.
validus
strong
(
from
valēre
to be strong
; see
wal-
in Indo-European roots.)
Related Forms:
---
invalid

Adjective
(comparative more invalid, superlative most invalid)
Not valid; not true, correct, acceptable or appropriate.

Your argument is invalid because it uses circular reasoning.
This invalid contract cannot be legally enforced.
Usage notes
The sense of a person confined to home or bed is considered insensitive, outmoded or politically incorrect by some.
Adjective
(not comparable)
Intended for use by an invalid.
Verb
(third-person singular simple present invalids, present participle invaliding, simple past and past participle invalided)
Origin
From Middle French invalide, from Latin invalidus ("infirm, weak"), from in- ("not") + validus ("strong")
---
invalid - Legal Definition
adj
Legally ineffective; unfounded.
---