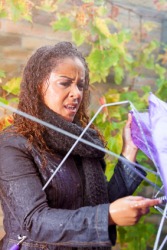 This umbrella is useless.
adjective
The definition of useless is someone or something that has no function or purpose or that is not helpful in any way.

An umbrella that does not keep you dry is an example of something that would be described as useless since it serves no purpose.
---
useless
having no use; unserviceable; worthless
to no purpose; ineffectual; of no avail
---
useless
adjective
a.

Being or having no beneficial use; ineffective:

This pen is useless because it's out of ink.

See Synonyms at

futile

.

b. Having no purpose or reason; pointless; to no avail: It's useless to argue over matters of taste.

Incapable of acting or functioning effectively; ineffectual or inept: He panics easily and is useless in an emergency.
Related Forms:
---
useless

Adjective
(comparative uselesser or more useless, superlative uselessest or most useless)
---