peril

per·il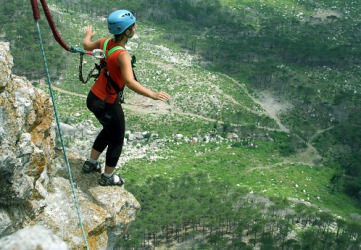 Shirley did not want to think about how her life might be in peril when she was on the verge of bungee jumping off of a cliff.
noun
Peril is danger or exposure to harm.

An example of peril is bungee jumping.
---
peril
exposure to harm or injury; danger; jeopardy
something that may cause harm or injury
Origin of peril
Old French from Classical Latin
periculum,
danger from base an unverified form
per-
(as in
experiri,
to try) from Indo-European base an unverified form
per-,
to try, risk, come over from source fear, fare
transitive verb
-·iled

or

-·illed

,

-·il·ing

or

-·il·ling
Archaic
to expose to danger; jeopardize; imperil
at one's peril
at one's own risk: ignore safety regulations at your peril
---
peril
noun
a. Imminent danger: a sign warning of the peril of falling rocks.

b. Exposure to the risk of harm or loss: in peril of losing his savings.

Something that endangers or involves risk: couldn't avoid the perils of the desert.
transitive verb
per·iled, per·il·ing, per·ils,
also
per·illed
per·il·ling
Archaic
To expose to danger or the chance of injury; imperil.
Origin of peril
Middle English
from
Old French
from
Latin
perīculum
; see
per-
3
in Indo-European roots.
---
peril

---
peril - Legal Definition
n
Risk of exposure to injury or damage, such as that protected against in an insurance policy. See also
insurance
.
---