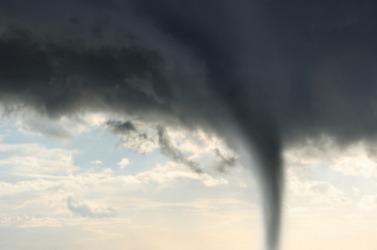 A frightful storm.
---
frightful
adjective
causing fright; terrifying; alarming
shocking; terrible

Informal

unpleasant; annoying
great: in a frightful hurry
---
frightful
adjective
Causing disgust or shock; horrifying.
Causing fright; terrifying.
Informal

a. Excessive; extreme: a frightful liar.

b. Disagreeable; distressing: frightful weather.
Related Forms:
---
frightful
Adjective
(comparative more frightful, superlative most frightful)
Full of that which causes fright; exciting alarm; impressing terror; shocking; as, a frightful chasm, or tempest; a frightful appearance.
Used as an intensifier

We wasted a frightful amount of money on renovations.
---