noun
The definition of a dish is a container used for holding and serving food.

An example of dish is a plate.

Dish is defined as a particular kind of prepared food.

An example of a dish is tuna casserole.
verb
To dish is defined as to serve food.

An example of to dish is spooning rice onto someone's plate.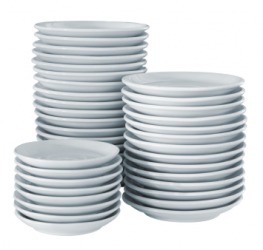 Stacks of dishes.
---
dish definition by Webster's New World
noun
any container, generally shallow and concave and of porcelain, earthenware, glass, plastic, etc. for serving or holding food
plates, bowls, saucers, cups, etc., collectively

the food in a dish
a particular kind of food, or food prepared in a certain way: one's favorite dish

a dishful
a dish-shaped object, as the reflector of a dish antenna
a dishlike concavity, or the amount of this

Informal

a favorite thing; preference
☆

Slang

a sexually attractive person, esp. a young woman

Slang

gossip, esp. when disparaging or malicious: often with the
Origin: Middle English ; from Old English disc, dish, plate ; from Proto-Germanic an unverified form diskuz ; from Classical Latin discus: see discus
transitive verb
to serve (food) in a dish: usually with up or out
to shape (an object, surface, or hole) like a dish: make concave: usually with out

Slang

to gossip about, esp. in a disparaging way

Chiefly Brit., Slang

to cheat, frustrate, ruin, etc.
intransitive verb
to be or become dish-shaped; cave in

Slang

to gossip, esp. disparagingly
Webster's New World College Dictionary Copyright © 2010 by Wiley Publishing, Inc., Cleveland, Ohio. Used by arrangement with John Wiley & Sons, Inc.
---
dish definition by American Heritage Dictionary
noun
a. An open, generally shallow concave container for holding, cooking, or serving food.

b. dishes The containers and often the utensils used when eating: took out the dishes and silverware; washed the dishes.

c. A shallow concave container used for purposes other than eating: an evaporating dish.

The amount that a dish can hold.

a. The food served or contained in a dish: a dish of ice cream.

b. A particular variety or preparation of food: Sushi is a Japanese dish.

a. A depression similar to that in a shallow concave container for food.

b. The degree of concavity in such a depression.

Electronics A dish antenna.
Slang A good-looking person, especially an attractive woman.
Informal Idle talk; gossip: "plenty of dish about her tattoos, her plastic surgeries, and her ever-younger inamorati" (Louise Kennedy).
verb
dished
,
dish·ing
,
dish·es
verb
, transitive
To serve (food) in or as if in a dish: dished up the stew.
To present: dished up an excellent entertainment.
To hollow out; make concave.
Informal To gossip about.
Chiefly British Slang To ruin, foil, or defeat.
verb
, intransitive
Informal
To talk idly, especially to gossip.
Phrasal Verb:
dish out
To dispense freely:
likes to dish out advice.
Origin: Middle English, from Old English disc, from Latin discus; see disk.
The American Heritage® Dictionary of the English Language, 4th edition Copyright © 2010 by Houghton Mifflin Harcourt Publishing Company. Published by Houghton Mifflin Harcourt Publishing Company. All rights reserved.
---
dish - Computer Definition
A saucer-shaped antenna that receives, or transmits and receives, signals from a satellite. See DBS.
Computer Desktop EncyclopediaTHIS DEFINITION IS FOR PERSONAL USE ONLYAll other reproduction is strictly prohibited without permission from the publisher.© 1981-2014 The Computer Language Company Inc. All rights reserved.
---
dish - Phrases/Idioms
dish it out
☆
Slang
to subject others to difficulty, criticism, hardship, ridicule, etc.
dish it out
Slang
To deal out criticism or abuse.