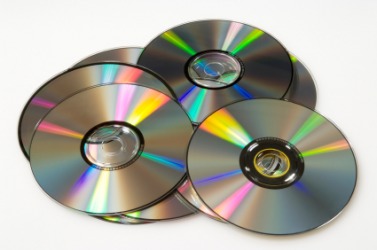 A pile of discs.
noun
The definition of a disc, sometimes spelled disk, is a record played in a phonograph or a device that contains music or other files.

An example of a disc is a CD.
---
disc
disk
a phonograph record
optical disc

Biol.

any disk-shaped part or structure
---
disc
disc.
disc-
---
disc

Usage notes
This is the customary abbreviation of this term as used in case citations. See, e.g., The Bluebook: A Uniform System of Citation, Nineteenth Edition (2010), "Case Names and Institutional Authors in Citations", Table T6, p. 430-431.
See also:
disc
Usage notes
See usage notes at the disk entry.
Origin
Latin discus through French disque
---
disc - Computer Definition
An alternate spelling for disk with a "k." Some computer manufacturers use this spelling for magnetic disks, but "disc" usually refers to optical media, such as CDs and DVDs. In this Encyclopedia... Disc ("c") refers to pure optical media, and disk ("k") refers to magnetic hard disks and floppy disks as well as to disks that use a combination of magnetic and optical technologies (see magneto-optic disk).
---