phonograph

pho·no·graph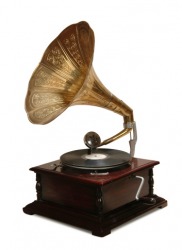 Gramophone
noun
The definition of a phonograph is a record player.

A player introduced in 1877 to reproduce sounds on which you can play records and listen to the sound through an attached speaker is an example of a phonograph.
---
phonograph
a device for reproducing sound that has been mechanically transcribed in a spiral groove on a circular disc or cylinder: a stylus following the groove in the revolving disc or cylinder transmits vibrations which are converted into sound
Origin of phonograph
phono- + -graph
---
phonograph
noun
A machine that reproduces sound by means of a stylus in contact with a grooved rotating disk.
Related Forms:
pho′no·graph′ic

adjective
pho′no·graph′i·cal·ly

adverb
---
phonograph

Noun
(plural phonographs)
Verb
(third-person singular simple present phonographs, present participle phonographing, simple past and past participle phonographed)
(dated) To record for playback by phonograph.
(dated) To transcribe into phonographic symbols.
Origin
From phono- +"Ž -graph.
---
phonograph - Computer Definition
---