adjective
The definition of arrogant is someone who is full of self-worth or self-importance and who tells and shows that they have a feeling of superiority over others.

An example of arrogant is when a guy on a date brags about himself all night, acting like he is the best thing to ever happen to a woman.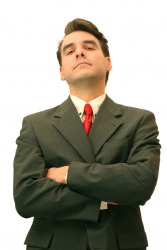 This man appears to be very arrogant.
---
arrogant definition by Webster's New World
adjective
full of or due to unwarranted pride and self-importance; overbearing; haughty
Origin: Middle English and amp; Old French ; from Classical Latin arrogans, present participle of arrogare, arrogate
Webster's New World College Dictionary Copyright © 2010 by Wiley Publishing, Inc., Cleveland, Ohio. Used by arrangement with John Wiley & Sons, Inc.
---
arrogant definition by American Heritage Dictionary
adjective
Having or displaying a sense of overbearing self-worth or self-importance.
Marked by or arising from a feeling or assumption of one's superiority toward others: an arrogant contempt for the weak. See Synonyms at proud.
Origin: Middle English arrogaunt, from Old French, from Latin arrogāns, arrogant-, present participle of arrogāre, to arrogate; see arrogate.
Related Forms: