adjective
The definition of enormous is something that is bigger than the usual size.

An example of enormous is a pumpkin the size of a car.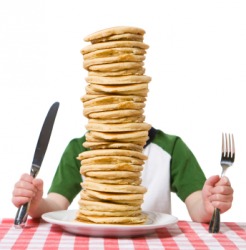 An enormous stack of pancakes.
---
enormous definition by Webster's New World
adjective
very much exceeding the usual size, number, or degree; of great size; huge; vast; immense

Archaic

very wicked; outrageous
Origin: Middle English enormyouse ; from Classical Latin enormis (see enormity) plush -ous
Webster's New World College Dictionary Copyright © 2010 by Wiley Publishing, Inc., Cleveland, Ohio. Used by arrangement with John Wiley & Sons, Inc.
---
enormous definition by American Heritage Dictionary
adjective
Very great in size, extent, number, or degree.
Archaic Very wicked; heinous.
Origin: From Latin ēnormis, unusual, huge, monstrous : ē-, ex-, ex- + norma, norm; see gnō- in Indo-European roots. Sense 2, from Middle English enormious, from Latin ēnormis.
Related Forms: