big

big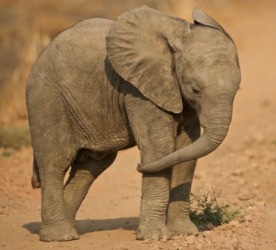 The elephant is a big animal.
adjective
The definition of big is something large or grand in size, or the status of being older or of being an adult or grown-up instead of a child.

An example of big is a 10,000 square foot house.
An example of big is your older brother.
An example of big is when a four year old thinks ahead to when he is older or to when he will be "big."
---
big
adjective
big′ger

,

big′gest
of great size, extent, or capacity; large
great in amount or quantity
great in force or intensity: a big wind

full-grown
elder: his big sister

far advanced in pregnancy (with)
filled or swelling (with)

loud

important or outstanding: to do big things
very well known; famous
popular; very well liked

boastful; pompous; extravagant: big talk
generous; noble: a big heart
[oftenB-] designating an industry or other organized, large-scale activity regarded as having distinct political and economic interests: big oil, big labor, etc.
Origin of big
Middle English from Germanic an unverified form
bugja,
swollen up, thick (from source bug and Norwegian dialect, dialectal
bugge,
big man) from Indo-European base an unverified form
beu-
, an unverified form
bheu-
, to blow up, swell from source puck, Classical Latin
bucca
, puffed cheek
adverb
big′ger

,

big′gest
pompously; boastfully; extravagantly: to talk big
impressively
in a broad way; showing imagination: think big!
---
big
adjective
big·ger, big·gest
a.

Of considerable size, number, quantity, magnitude, or extent; large. See Synonyms at

large

.

b. Having great strength or force: a big wind; in a big rage.

c. Of great significance; momentous: a big decision; a big victory.

a. Mature or grown-up: big enough to take the bus by herself.

b. Older or eldest. Used especially of a sibling: My big brother is leaving for college next week.

a. Filled up; brimming over: felt big with love.

b. Bountiful; generous: had a big heart.

Pregnant: big with child.

a. Having or exercising considerable authority, control, or influence: a big official; a big chief.

b. Conspicuous in position, wealth, or importance; prominent: a big figure in the peace movement.

Loud and firm; resounding: a big voice.
Informal Widely liked, used, or practiced; popular: "The Minneapolis indie-rock band was big in the blogosphere, beloved by hipsters, and unknown to pretty much everyone else" ( Robert Levine )
Informal Self-important; cocky: You're too big for your own good.
adverb
In a pretentious or boastful way: talked big about the new job.
Informal

a. With considerable success: made it big with their recent best-selling album.

b. In a thorough or unmistakable way; emphatically: failed big at the box office.
Origin of big
Middle English
perhaps of Scandinavian origin
Related Forms:
---
big

---