adjective
The definition of big is something large or grand in size, or the status of being older or of being an adult or grown-up instead of a child.

An example of big is a 10,000 square foot house.
An example of big is your older brother.
An example of big is when a four year old thinks ahead to when he is older or to when he will be "big."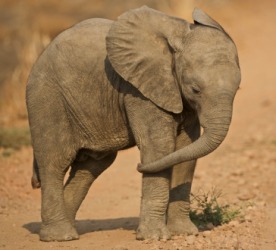 The elephant is a big animal.
---
big definition by Webster's New World
adjective
bigger, biggest
of great size, extent, or capacity; large
great in amount or quantity
great in force or intensity: a big wind

full-grown
elder: his big sister

far advanced in pregnancy (with)
filled or swelling (with)

loud

important or outstanding: to do big things
very well known; famous
popular; very well liked

boastful; pompous; extravagant: big talk
☆ generous; noble: a big heart
Origin: Middle English ; from Germanic an unverified form bugja, swollen up, thick (from source bug and amp; Norwegian dialect, dialectal bugge, big man) ; from Indo-European base an unverified form beu-, an unverified form bheu-, to blow up, swell from source puck, Classical Latin bucca, puffed cheek
Webster's New World College Dictionary Copyright © 2010 by Wiley Publishing, Inc., Cleveland, Ohio. Used by arrangement with John Wiley & Sons, Inc.
---
big definition by American Heritage Dictionary
adjective
big·ger
,
big·gest
Of considerable size, number, quantity, magnitude, or extent; large. See Synonyms at large.

a. Of great force; strong: a big wind; in a big rage.

b. Obsolete Of great strength.

a. Mature or grown-up: big enough to take the bus by herself.

b. Older or eldest. Used especially of a sibling: My big brother is leaving for college next week.

Pregnant: big with child.
Filled up; brimming over: felt big with love.
Having or exercising considerable authority, control, or influence: a big official; a big chief.
Conspicuous in position, wealth, or importance; prominent: a big figure in the peace movement.
Of great significance; momentous: a big decision; a big victory.
Informal Widely liked, used, or practiced; popular: "For public opinion . . . has grown harsh and yuppie-bashing is big" (Sally Jacobs).
Informal Self-important; cocky: You're too big for your own good.
Loud and firm; resounding: a big voice.
Bountiful; generous: had a big heart.
adverb
In a pretentious or boastful way: talked big about the new job.
Informal

a. With considerable success: made it big with their recent best-selling album.

b. In a thorough or unmistakable way; emphatically: failed big at the box office.
Origin: Middle English, perhaps of Scandinavian origin.
Related Forms:
The American Heritage® Dictionary of the English Language, 4th edition Copyright © 2010 by Houghton Mifflin Harcourt Publishing Company. Published by Houghton Mifflin Harcourt Publishing Company. All rights reserved.
---
big - Phrases/Idioms
big on
Enthusiastic about; partial to:
"The Japanese are big on ranking things and deciding which is Number One"
(James Fallows).