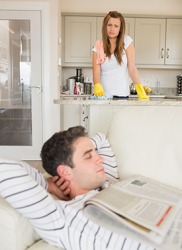 Tamara thought her husband had a selfish attitude about who was responsible for housework especially since they both work full time jobs.
adjective
Selfish is defined as being focused only on yourself, or acting that way.

An example of someone selfish is a toddler who doesn't want to share their toys.
---
selfish
too much concerned with one's own welfare or interests and having little or no concern for others; self-centered
showing or prompted by self-interest
---
selfish
adjective
Concerned chiefly or excessively with oneself, and having little regard for others: a selfish child who wouldn't share toys.
Showing or arising from an excessive concern with oneself and a lack of concern for others: a selfish whim.
Related Forms:
---
selfish

Adjective
(comparative more selfish, superlative most selfish)
Holding one's self-interest as the standard for decision making.
Having regard for oneself above others' well-being.
Usage notes
Said of people, motives, desires, acts, etc.
Origin
From self +"Ž -ish
---