narrow

nar·row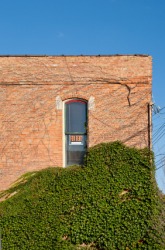 A narrow window in a brick building.
adjective
The definition of narrow is someone who is limited in some way or something that is small in width as compared to its length.

An example of narrow used as an adjective is the phrase narrow mind, which is someone with little knowledge of the world.
An example of a narrow window is a long window that is not very wide.
---
narrow
small in width as compared to length; esp., less wide than is customary, standard, or expected; not wide
limited in meaning, size, amount, or extent: a narrow majority
limited in outlook; without breadth of view or generosity; not liberal; prejudiced: a narrow mind
close; careful; minute; thorough: a narrow inspection
with limited margin; with barely enough space, time, etc.; barely successful: a narrow escape
limited in means; with hardly enough to live on: narrow circumstances
having a relatively high proportion of protein: said of livestock feed

Dial.

stingy; parsimonious

Phonet.

tense: said of certain vowels
Origin of narrow
Middle English
narwe
from Old English
nearu
, akin to Middle Dutch
nare
, Old Saxon
naru
from Indo-European base an unverified form
(s)ner-
, to turn, twist from source snare, Classical Greek
nark?
, stupor
to decrease in width; contract: the river narrows up ahead
to decrease or limit in width: to narrow a sidewalk
to decrease or limit the scope, extent, or number of: often with down: to narrow down one's college options
a narrow part or place, esp. in a valley, mountain pass, road, etc.
[usually pl.] a narrow passage, as between two bodies of water; strait
---
narrow
adjective
nar·row·er, nar·row·est
Of small or limited width, especially in comparison with length.
Limited in area or scope; cramped.
Lacking flexibility; rigid: narrow opinions.
Barely sufficient; close: a narrow margin of victory.
Painstakingly thorough or attentive; meticulous: narrow scrutiny.
Linguistics Tense.
verb
nar·rowed, nar·row·ing, nar·rows
verb
transitive
To reduce in width or extent; make narrower.
To limit or restrict: narrowed the possibilities down to three.
verb
intransitive
To become narrower; contract.
noun
A part of little width, as a pass through mountains.
narrows used with a sing. or pl. verb

a. A body of water with little width that connects two larger bodies of water.

b. A part of a river or an ocean current that is not wide.
Origin of narrow
Middle English
narwe
from
Old English
nearu
Related Forms:
---
narrow

---