adolescent

ad·o·les·cent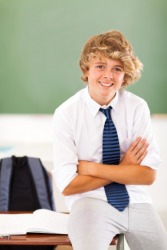 An adolescent in class.
adjective
The definition of adolescent is immature or like a teenager.

Going out and drinking alcohol every night is an example of adolescent behavior.
noun
Adolescent is defined as a person who is in between puberty and adulthood.

A high school student is an example of an adolescent.
---
adolescent
developing from childhood to maturity; growing up
of or characteristic of adolescence; youthful, exuberant, immature, unsettled, etc.
Origin of adolescent
French from Classical Latin
adolescens
, present participle of
adolescere
, to come to maturity, be kindled, burn from an unverified form
adalescere
from
ad-
, to +
alescere
, to increase, grow up from
alere
, to feed, sustain; akin to Old English
ald
(see old), Gothic
alan
, to grow
a boy or a girl from puberty to adulthood; teenage person
---
adolescent
adjective
Of, relating to, or undergoing adolescence.
Characteristic of adolescence; immature: an adolescent sense of humor. See Synonyms at young.
noun
A young person who has undergone puberty but who has not reached full maturity.
Origin of adolescent
Middle English
from
Old French
from
Latin
adolēscēns
adolēscent-
present participle of
adolēscere
to grow up
ad-
ad-
alēscere
to grow
inchoative of
alere
to nourish
; see
al-
2
in Indo-European roots.
---
adolescent

---