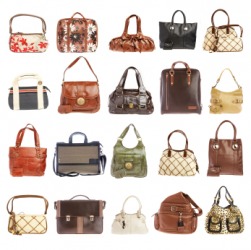 Different styles of handbags.
---
handbag
noun
a bag, usually of leather or cloth, held in the hand or hung by a strap from the arm or shoulder and used, esp. by women, to carry money, keys, and personal effects
a small suitcase or valise
---
handbag
---
handbag
Noun
(plural handbags)
(UK and Canada) A small bag used by women (sometimes by men) for carrying various small personal items.
Verb
(third-person singular simple present handbags, present participle handbagging, simple past and past participle handbagged)
(UK, humorous) Figuratively, to hit with a handbag; to attack verbally or subject to criticism (used originally of Margaret Thatcher).
---