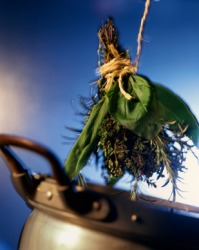 A bouquet garni about to be added to a pot.
---
bouquet garni definition by Webster's New World
a mixture of herbs, orig. thyme, bay leaf, and parsley, tied by the stems or placed in a cloth bag, added as to a broth or stew during cooking, and removed before serving
a mixture of herbs chopped fine and added directly to foods during cooking
Origin: French
Webster's New World College Dictionary Copyright © 2010 by Wiley Publishing, Inc., Cleveland, Ohio. Used by arrangement with John Wiley & Sons, Inc.
---
bouquet garni definition by American Heritage Dictionary
noun
pl.
bou·quets gar·nis
A bunch of herbs tied together, wrapped in cheesecloth or enclosed in a small cloth sack, and immersed during cooking, as in a soup or stew.
Origin: French : bouquet, bunch + garni, past participle of garnir, to garnish.