cashier

ca·shier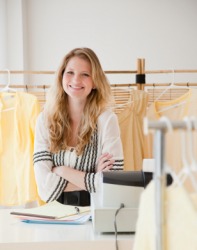 A cashier at her cash register.
noun
The definition of a cashier is a person who works at a store or other business who takes money, makes change, issues receipts and otherwise helps to facilitate customer transactions.

A person who works at the register at Starbucks and who takes your order and money and gives you your change is an example of a cashier.
---
cashier
a person hired to collect and keep a record of customers' payments, as in a store
an officer in a bank or company responsible for receipts and disbursements
Origin of cashier
from Middle Dutch or MFr; Middle Dutch
cassier
from Middle French
caissier
from
caisse
to dismiss, esp. in dishonor, from a position of command, trust, etc.
to discard or reject
Origin of cashier
Middle Dutch
casseren
, to disband soldiers from Middle French
casser
, to break from Late Latin
cassare
, to nullify, destroy from Classical Latin
cassus
, empty, futile (see quash) and
quassare
, to shake, shatter (see quash)
---
cashier
noun
The officer of a bank or business concern in charge of paying and receiving money.
A store employee who handles cash transactions with customers.
Origin of cashier
Dutch
cassier
or
French
caissier
both from
French
caisse
money box
from
Old Provençal
caisa
from
Vulgar Latin
capsea
from
Latin
capsa
case
transitive verb
ca·shiered, ca·shier·ing, ca·shiers
To dismiss from a position of command or responsibility, especially for disciplinary reasons: was dishonorably cashiered from the army.
Origin of cashier
Dutch
casseren
from
Old French
casser
to dismiss, annul
; see
quash
1
.
---
cashier

---