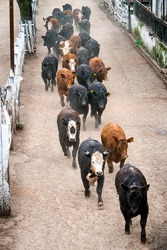 Cattle getting herded before going to slaughter.
verb
Slaughter is defined as to kill animals or people in large numbers or in a brutal way.

An example of to slaughter is pigs being killed to be sold as pork.
---
slaughter
the killing of an animal or animals for food; butchering
the killing of a human being, esp. in a brutal manner
the killing of people in large numbers, as in battle

Informal

a complete defeat or victory
Origin of slaughter
Middle English
slahter
from Old Norse
sl?tr
, literally , slain flesh, contr. from
slattr
, akin to Old English
sleaht
, slaughter, death: for Indo-European base see slay
to kill (an animal or animals) for food; butcher
to kill (people), esp. brutally or in large numbers

Informal

to conquer or defeat completely
---
slaughter
noun
The killing of animals especially for food.
The killing of a large number of people; a massacre: "I could not give my name to aid the slaughter in this war, fought on both sides for grossly material ends" ( Sylvia Pankhurst )
transitive verb
slaugh·tered, slaugh·ter·ing, slaugh·ters
To kill (animals) especially for food; butcher.

a. To kill (people) in large numbers; massacre.

b. To kill in a violent or brutal manner.
Origin of slaughter
Middle English
of Scandinavian origin
Old Norse
slātr
butchery
Related Forms:
---
slaughter

Noun
(uncountable)
(uncountable) The killing of animals, generally for food; ritual slaughter (kosher and halal).
A rout or decisive defeat.
Verb
(third-person singular simple present slaughters, present participle slaughtering, simple past and past participle slaughtered)
To butcher animals, generally for food
To massacre people in large numbers
---