noun
The definition of a butcher is someone who kills animals or cuts up the bodies of dead animals to be sold as meat.

An example of a butcher is someone who slaughters sheep.
verb
Butcher is defined as to kill animals or prepare dead animals for meat or to kill large numbers of people without feeling.

An example of butcher is the killing of thousands of people in the Darfur genocide.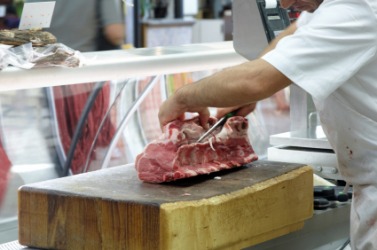 A butcher at work.
---
butcher definition by Webster's New World
noun
a person whose work is killing animals or dressing their carcasses for meat
a person who cuts up meat for sale
anyone who kills as if slaughtering animals
☆

Informal

a person who sells candy, drinks, etc. in theaters, trains, circuses, etc.
Origin: Middle English bocher ; from Old French bochier, bouchier, one who kills and sells he-goats ; from bouc, he-goat ; from Frankish an unverified form bukk, akin to Old English bucca: see buck
transitive verb
to kill or dress (animals) for meat
to kill (people, game, etc.) brutally, senselessly, or in large numbers; slaughter
to mess up; botch
---
butcher definition by American Heritage Dictionary
noun
a. One who slaughters and dresses animals for food or market.

b. One who sells meats.

One that kills brutally or indiscriminately.
A vendor, especially one on a train or in a theater.
One who bungles something.
transitive verb
butch·ered
,
butch·er·ing
,
butch·ers
To slaughter or prepare (animals) for market.
To kill brutally or indiscriminately.
To botch; bungle: butcher a project; butchered the language.
Origin: Middle English bucher, from Old French bouchier, from bouc, boc, he-goat, probably of Celtic origin.
Related Forms: