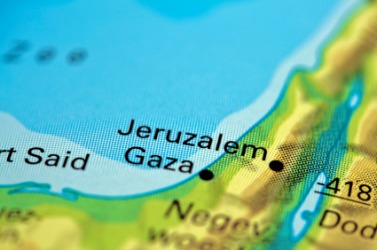 Gaza is shown on a map.
---
Gaza
city in SW Asia, at the SE end of the Mediterranean: in ancient times, one of the chief cities of the Philistines; Biblical site of Samson's death (Judg. 16:21-30): pop. 120,000: the city and a surrounding strip of land () were alternately occupied by Egypt & Israel (1949-67); under Israeli administration (1967-94); an agreement in 1994 provided for a transfer of authority in stages that would result in self-rule
---
Gaza
A city of southwest Asia in the Gaza Strip, a narrow coastal area along the Mediterranean Sea adjoining Israel and Egypt. The territory was part of the British mandate for Palestine (1920–1948), passed to Egypt in 1949, and was occupied by Israel in 1967. Palestinian autonomy was promised in the 1979 Israeli-Egyptian peace treaty, and limited autonomy was granted in a 1993 Israeli-Palestinian accord. The city of Gaza was one of the five major Philistine city-kingdoms.
---
Gaza
Proper noun
A Palestinian city on the eastern shore of the Mediterranean Sea, formerly in Egypt.
The Gaza Strip.
Origin
From Ancient Greek Γάζα (Gaza) from the Hebrew עזה (`aza).
---