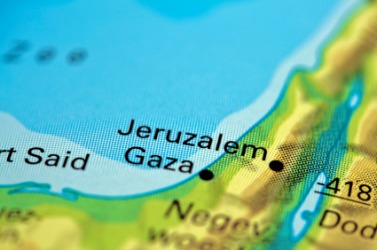 Gaza is shown on a map.
---
Gaza definition by Webster's New World
city in SW Asia, at the SE end of the Mediterranean: in ancient times, one of the chief cities of the Philistines; Biblical site of Samson's death (Judg. 16:21-30): pop. 120,000: the city and a surrounding strip of land () were alternately occupied by Egypt & Israel (1949-67); under Israeli administration (1967-94); an agreement in 1994 provided for a transfer of authority in stages that would result in self-rule
Webster's New World College Dictionary Copyright © 2010 by Wiley Publishing, Inc., Cleveland, Ohio. Used by arrangement with John Wiley & Sons, Inc.
---
Gaza definition by American Heritage Dictionary
A city of southwest Asia in the Gaza Strip, a narrow coastal area along the Mediterranean Sea adjoining Israel and Egypt. The territory was part of the British mandate for Palestine (1917-1948), passed to Egypt in 1949, and was occupied by Israel in 1967. Palestinian autonomy was promised in the 1979 Israeli-Egyptian peace treaty, and limited autonomy was granted in a 1993 Israeli-Palestinian accord. The city of Gaza was one of the five major Philistine city-kingdoms. Population: 479,000.