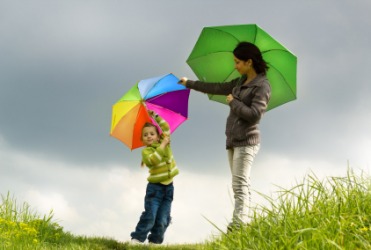 A mother and daughter each carrying an umbrella.
adjective
Umbrella is something that is designed to cover multiple items at the same time.

An example of umbrella is an insurance policy that provides protection in many situations; an umbrella policy.
noun
The definition of an umbrella is a piece of material stretched over a round spoked frame that provides shade or protection from rain, or something that protects.

An example of an umbrella is what the character Mary Poppins holds while she's floating in the air in the film Mary Poppins.
An example of an umbrella is a pricing policy that protects the consumer against paying too much; a price umbrella.
---
umbrella
a screen or shade, usually of cloth stretched over a folding radial frame, carried for protection against the rain or sun
something suggestive of this; specif.,

the body of a jellyfish
any comprehensive, protective organization, alliance, strategy, or device: the umbrella of insurance
a force of military aircraft sent up to screen ground or naval forces: air umbrella
Origin of umbrella
Italian
ombrella
from Late Latin
umbrella
(altered by associated, association with Classical Latin
umbra,
shade) from Classical Latin
umbella,
parasol, diminutive of
umbra,
shade
---
umbrella
noun
A device for protection from the weather consisting of a collapsible, usually circular canopy mounted on a central rod.

a. Something shaped like an umbrella: the umbrella of a mushroom.

b. The gelatinous, rounded mass that makes up the major part of the medusa stage of most jellyfish and certain other cnidarians.

a. Something that covers or protects: The researcher's job was saved by the umbrella of academic freedom.

b. Air cover, especially during a military operation.
Origin of umbrella
Italian
ombrella
from
Late Latin
umbrella
alteration
(
influenced by
umbra
shade
)
of
Latin
umbella
parasol
; see
umbel
.
Related Forms:
um·brel′la·less

adjective
---
umbrella

Noun
(plural umbrellas)
Cloth-covered frame used for protection against rain or sun.

Quick, grab that umbrella before you get rained on!

Generally, anything that provides protection.

The fighters provide a defensive air umbrella over the battle group.

Something that covers a wide range of concepts, purposes, groups and etc.

The test facility was established under the umbrella of the company's quality program.
---