noun
The definition of a park is an area of land used for various purposes such as recreation, playgrounds and swimming.

An example of a park is a public space with a pool, swing set and slide.
verb
Park is defined as to make into an outdoor recreational area, or store in such a space, or to put a car in a space temporarily.

An example of park is to enclose an area of land to make a playground.
An example of park is to bring a car into the driveway.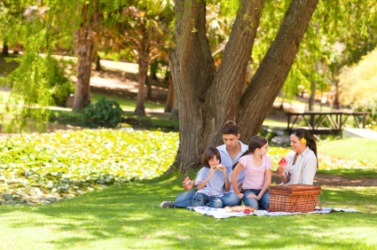 A family enjoying a picnic in the park.
---
park
noun
Eng. Law, Historical

an enclosed area of land, held by royal grant or prescription, stocked and preserved for hunting
an area of land containing pasture, woods, lakes, etc., surrounding a large country house
an area of public land; specif.,

an area in or near a city, usually laid out with walks, drives, playgrounds, etc., for public recreation
an open square in a city, with benches, trees, etc.
a large area known for its natural scenery and preserved for public recreation by a state or national government

ballpark
☆

West

a level, open area surrounded by mountains or forest
that arrangement of bands, clutches, etc. in an automatic transmission that disengages and locks the drive wheels of a motor vehicle
parking lot
an area set aside for a particular commercial use; specif.,

amusement park
industrial park

Mil.

an area for storing and servicing vehicles and other equipment
Origin of park
Middle English
parc
; from Old French ; from Medieval Latin
parricus
; from Iberian an unverified form
parra
from source Spanish
parra,
trellis, grape vine
transitive verb
to enclose in or as in a park
to store (military equipment) in a park
☆ to leave (a vehicle) in a place temporarily
☆ to maneuver (a vehicle) into a space where it can be left temporarily
☆

Informal

to leave in a particular place; deposit

Finance

to transfer (securities) temporarily, as to conceal ownership
intransitive verb
to park a vehicle
Park, Mungo 1771-1806; Scot. explorer in Africa
---
park
noun
An area of land set aside for public use, as:

a. A piece of land with few or no buildings within or adjoining a town, maintained for recreational and ornamental purposes.

b. A landscaped city square.

c. A large tract of rural land kept in its natural state and usually reserved for the enjoyment and recreation of visitors.

A broad, fairly level valley between mountain ranges: the high parks of the Rocky Mountains.
A tract of land attached to a country house, especially when including extensive gardens, woods, pastures, or a game preserve.
Sports A stadium or an enclosed playing field: a baseball park.

a. An area where military vehicles or artillery are stored and serviced.

b. The materiel kept in such an area.

An area in or near a town designed and usually zoned for a certain purpose: a commercial park.
A position in an automatic transmission that disengages the gears and sets the brake so the vehicle cannot move: put the car in park and turned off the engine.
verb
parked
,
park·ing
,
parks
verb
, transitive
To put or leave (a vehicle) for a time in a certain location.
Aerospace To place (a spacecraft or satellite) in a usually temporary orbit.
Informal To place or leave temporarily: parked the baby with neighbors; parking cash in a local bank account.
To assemble (artillery or other equipment) in a military park.
verb
, intransitive
To park a motor vehicle: pulled over and parked next to the curb.
Slang To engage in kissing and caressing in a vehicle stopped in a secluded spot.
Origin of park
Middle English,
game preserve, enclosed tract of land
, from Old French
parc
, from Vulgar Latin
*parricus
,
fence
, from
*parra
,
perhaps, "wooden bar, espalier"
; akin to Spanish
parra
,
grapevine grown in an espalier
, and French
barre
,
bar
; see
barre
.
Related Forms:
---
park
Noun
(plural parks)
An area of land set aside for environment preservation and/or informal recreation.

A tract of ground kept in its natural state, about or adjacent to a residence, as for the preservation of game, for walking, riding, or the like.
A piece of ground, in or near a city or town, enclosed and kept for ornament and recreation

Hyde Park in London;  Central Park in New York

An enclosed parcel of land stocked with animals for hunting, which one may have by prescription or royal grant.
(US) A grassy basin surrounded by mountains.

An area used for serious organized purposes.

A space occupied by the animals, wagons, pontoons, and materials of all kinds, as ammunition, ordnance stores, hospital stores, provisions, etc., when brought together.

a park of wagons;   a park of artillery

A partially enclosed basin in which oysters are grown.
An area zoned for a particular (industrial or technological) purpose.

business park;  industrial park;  science park

(soccer) A pitch; the area on which a match is played.

(UK) An inventory of matériel.

A country's tank park or artillery park.

(Australia, New Zealand) A space in which to leave a car; a parking space.
Verb
(third-person singular simple present parks, present participle parking, simple past and past participle parked)
To bring (something such as a vehicle) to a halt or store in a specified place.

You can park the car in front of the house.
I parked the drive heads of my hard disk before travelling with my laptop.

(informal) To defer (a matter) until a later date.

Let's park that until next week's meeting.

To bring together in a park, or compact body.
To enclose in a park, or as in a park.

How are we parked, and bounded in a pale. — Shakespeare.

(baseball) To hit a home run, to hit the ball out of the park.

He really parked that one.

(intransitive, slang) To engage in romantic or sexual activities inside a nonmoving vehicle.

They stopped at a romantic overlook, shut off the engine, and parked.

(informal, sometimes reflexive) To sit, recline, or put, especially in a manner suggesting an intent to remain for some time.

He came in and parked himself in our living room.
Park your bags in the hall.

(finance) To invest money temporarily in an investment instrument considered to relatively free of risk, especially while awaiting other opportunities.

We decided to park our money in a safe, stable, low-yield bond fund until market conditions improve.

(Internet) To register a domain name, but make no use of it (See domain parking)
Antonyms
(bring to a halt): unpark
Origin
From Middle English park, from Old French parc ("livestock pen"), from Medieval Latin parcus, parricus, from Frankish *parrik ("enclosure, pen"), from Proto-Germanic *parrukaz ("enclosure, fence"), from Proto-Indo-European *(s)par- ("beam, log"). Cognate with Old High German pfarrih, pferrih ("enclosure, pen"), Old English pearroc ("enclosure"), Old Norse parrak ("enclosure, pen" also "distress, anxiety"). More at parrock, paddock.
---
park - Computer Definition
To retract the read/write head on a hard disk to its home location before the unit is physically moved in order to prevent damage. Most modern drives park themselves when the power is turned off. See drop protection.
---