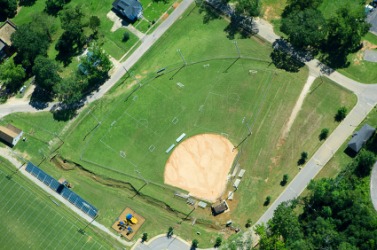 A ballpark seen from the air.
---
ballpark
☆
noun
a stadium, outdoor arena, or other facility for contests between athletic teams, esp. baseball or football teams
adjective
Informal
designating an estimate, figure, etc. that is thought to be fairly accurate
in the ballpark
Informal
fairly accurate
fairly close to what is required
---
ballpark
noun
A park or stadium in which ball games are played.
Slang The approximately proper range, as of possibilities or alternatives: Your estimate is high, but still in the ballpark.
adjective
Of, relating to, or used in a park or stadium: ballpark lights; ballpark seating.
Slang Being approximately proper in range: gave a ballpark estimate of future unit sales.
---
ballpark
---