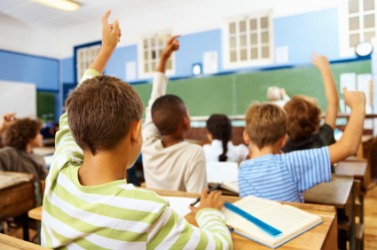 Students raise their hands in response to the teachers question.
noun
The definition of response is a reaction after something is done.

An example of response is how someone reacts to an ink blot on a card.

Response is defined as an answer to a question.

An example of response is what happens after the question during a question and answer discussion.
---
response
something said or done in answer; reply or reaction

Eccles.

a word or words used in replying to or affirming a prayer, reading, or exhortation
responsory

Electronics

the ratio of the output to the input, as for a given frequency, of a device or system operating under specified conditions
any biological reaction or behavior resulting from the application of a stimulus
Origin of response
Middle English
respounse
from Medieval Latin
respons
from Classical Latin
responsum,
neuter of
responsus,
past participle of
respondere:
see respond
---
response
noun
The act of responding.
A reply or an answer.
A reaction, as that of an organism or a mechanism, to a specific stimulus: a microphone's response to certain frequencies; response by the immune system to a pathogen.

a. Ecclesiastical Something that is spoken or sung by a congregation or choir in answer to the officiating minister or priest.

b. A responsory.
Origin of response
Middle English
respons
from
Old French
from
Latin
respōnsum
from neuter past participle of
respondēre
to respond
; see
respond
.
---
response

---