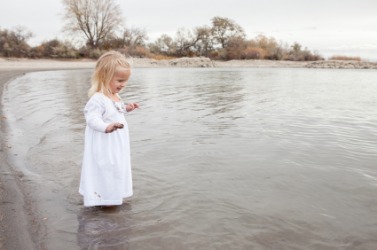 A little girl wades in the water.
verb
To wade is to walk through a shallow area of water or other substance or to move slowly through something tedious.

An example of wade is when you walk through two feet of water on the edge of a lake.
An example of wade is when you slowly read through a long and dense book.
---
wade
intransitive verb
wad′ed

,

wad′ing
to walk through any substance, as water, mud, snow, sand, tall grass, etc., that offers resistance
to walk about in shallow water, as for amusement
to go forward with effort or difficulty: to wade through a long report

Informal

to move energetically into action; attack with vigor: with in or into

Obs.

to go; proceed; pass
Origin of wade
Middle English
waden
from OE, to go, akin to German
waten
, to wade from Indo-European base an unverified form
w?dh-
, to go, stride forward from source Classical Latin
vadere
, to go,
vadare
, to wade
to go across or through by wading: to wade a brook
---
wade
verb
wad·ed, wad·ing, wades
verb
intransitive
To walk in or through water or something else that similarly impedes normal movement.
verb
transitive
To cross or pass through (water, for example) with difficulty: wade a swift creek.
noun
The act or an instance of wading.
Phrasal Verbs:
wade in (or into)
To begin resolutely or energetically to do (something):
waded into the task.
wade through
To read (something) with great effort:
waded through the school's correspondence.
Origin of wade
Middle English
waden
from
Old English
wadan
---
wade

Verb
(third-person singular simple present wades, present participle wading, simple past and past participle waded)
(intransitive) to progress with difficulty

to wade through a dull book

to walk through (water or similar impediment); to pass through by wading

wading swamps and rivers

(intransitive) To enter recklessly.

to wade into a fight or a debate
Noun
(plural wades)
an act of wading
Origin
Old English wadan, from Proto-Germanic *wadanÄ…, from Proto-Indo-European *wadh- "to go". Cognates include Latin vadere "go, walk; rush" (whence English invade, evade).
Noun
(uncountable)
Obsolete form of woad.
Part or all of this entry has been imported from the 1913 edition of Webster's Dictionary, which is now free of copyright and hence in the public domain. The imported definitions may be significantly out of date, and any more recent senses may be completely missing.
Usage notes
Technically, Wade should only refer to the system of Chinese romanization developed by Thomas Wade prior to the contributions and adjustments made by Herbert Giles. In practice, it was often used as a shorthand for the more proper term Wade-Giles.
Origin
From the Old English for a ford.
---