verb
To wade is to walk through a shallow area of water or other substance or to move slowly through something tedious.

An example of wade is when you walk through two feet of water on the edge of a lake.
An example of wade is when you slowly read through a long and dense book.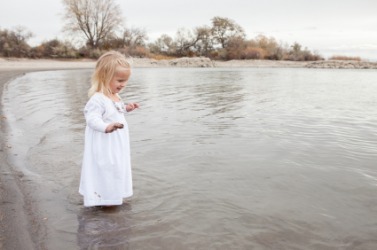 A little girl wades in the water.
---
wade definition by Webster's New World
intransitive verb
waded, wading
to walk through any substance, as water, mud, snow, sand, tall grass, etc., that offers resistance
to walk about in shallow water, as for amusement
to go forward with effort or difficulty: to wade through a long report
☆

Informal

to move energetically into action; attack with vigor: with in or into

Obsolete

to go; proceed; pass
Origin: Middle English waden ; from Old English to go, akin to German waten, to wade ; from Indo-European base an unverified form wādh-, to go, stride forward from source Classical Latin vadere, to go, vadare, to wade
transitive verb
to go across or through by wading: to wade a brook
Webster's New World College Dictionary Copyright © 2010 by Wiley Publishing, Inc., Cleveland, Ohio. Used by arrangement with John Wiley & Sons, Inc.
---
wade definition by American Heritage Dictionary
verb
wad·ed
,
wad·ing
,
wades
verb
, intransitive
To walk in or through water or something else that similarly impedes normal movement.
To make one's way arduously: waded through a boring report.
verb
, transitive
To cross or pass through (water, for example) with difficulty: wade a swift creek.
noun
The act or an instance of wading.
Phrasal Verb:
wade
in
/into
To plunge into, begin, or attack resolutely and energetically:
waded into the task.
Origin: Middle English waden, from Old English wadan.
, Benjamin Franklin 1800-1878.
American politician who served as a U.S. senator from Ohio (1851-1869) and jointly authored the Wade-Davis Manifesto (1864), which declared the primacy of Congress in matters of the Reconstruction.