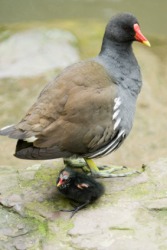 The common moorhen is a gallinule
---
gallinule definition by Webster's New World
noun
any of various gruiform marsh birds (family Rallidae) that both swim and wade; esp., the moorhen
Origin: Modern Latin ; from Classical Latin gallinula, pullet, diminutive of gallina: see gallinaceous
Webster's New World College Dictionary Copyright © 2010 by Wiley Publishing, Inc., Cleveland, Ohio. Used by arrangement with John Wiley & Sons, Inc.
---
gallinule definition by American Heritage Dictionary
noun
Any of various wading and swimming birds of the family Rallidae, frequenting swampy regions and characteristically having dark iridescent plumage and a red bill tipped with yellow.
Origin: Latin gallīnula, pullet, diminutive of gallīna, hen; see gallinaceous.