ford

ford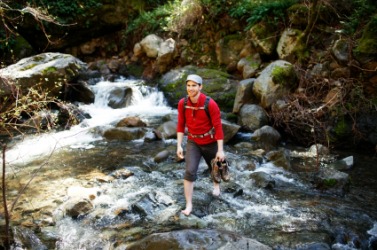 A man at a ford in a stream.
noun
The definition of a ford is a shallow area of a river where it's easier to cross.

An example of a ford is where you can see the bottom of a river.
verb
To ford is defined as to cross a river at a shallow place.

An example of ford is when cattle are taken across the stream to get to the other side.
---
ford
a shallow place in a stream, river, etc., where one can cross by wading or by riding on horseback, in an automobile, etc.
Origin of ford
Middle English from OE, akin to German
furt
from Indo-European
p?tu
, passage from base an unverified form
per-
, to transport from source fare, Classical Latin
portus
, Gothic an unverified form
faran
Ford
(born Ford Madox Hueffer) 1873-1939; Eng. writer & editor

(born Leslie Lynch King, Jr.) 1913-2006; 38th president of the U.S. (1974-77)

1863-1947; U.S. automobile manufacturer

1586-1639?; Eng. dramatist

(born John Martin Feeney) 1894-1973; U.S. film director
---
ford
noun
A shallow place in a body of water, such as a river, where one can cross by walking or riding on an animal or in a vehicle.
transitive verb
ford·ed, ford·ing, fords
To cross (a body of water) at a ford.
Origin of ford
Middle English
from
Old English; see
per-
2
in Indo-European roots.
Related Forms:
---
ford

Noun
(plural fords)
A location where a stream is shallow and the bottom has good footing, making it possible to cross from one side to the other with no bridge, by walking, riding, or driving through the water; a crossing.
Verb
(third-person singular simple present fords, present participle fording, simple past and past participle forded)
To cross a stream using a ford.
Suffix
Suffix indicating a place on a river suitable for crossing or fording.
Origin
From Old English ford
---