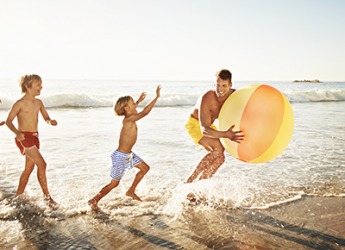 The shallow water at this beach is perfect for families with young children.
adjective
The definition of shallow is something that is not deep or someone who is concerned only about silly or inconsequential things.

An example of shallow is a hole that is only an inch deep.
An example of shallow is a person who only cares about someone's looks and how much money they have.
---
shallow
not deep: a shallow lake
lacking depth of character, intellect, or meaning; superficial
slight; weak: shallow breathing
Origin of shallow
Middle English
shalow
from Old English an unverified form
scealw
from Indo-European base an unverified form
(s)kel-
, to dry out from source shoal, Classical Greek
skellein
a shallow place in a body of water; shoal
to make or become shallow
---
shallow
adjective
shal·low·er, shal·low·est
Measuring little from bottom to top or surface; lacking physical depth.
Lacking depth of intellect, emotion, or knowledge: "This is a shallow parody of America" ( Lloyd Rose )
Marked by insufficient inhalation of air; weak: shallow respirations.
In the part of a playing area that is closer to home plate: shallow left field.
noun
often shallows A part of a body of water of little depth; a shoal: abandoned the boat in the shallows.
tr. & intr.v.
shal·lowed, shal·low·ing, shal·lows
To make or become shallow.
Origin of shallow
Middle English
schalowe
Related Forms:
---
shallow

Adjective
(comparative shallower, superlative shallowest)
Having little depth; significantly less deep than wide.

This crater is relatively shallow.
Saute the onions in a shallow pan.

Extending not far downward.

The water is shallow here.

Concerned mainly with superficial matters.

It was a glamorous but shallow lifestyle.

Lacking interest or substance.

The acting is good, but the characters are shallow.

Not intellectually deep; not penetrating deeply; simple; not wise or knowing.

shallow learning

(tennis) Not far forward, close to the net
Noun
(plural shallows)
A shallow portion of an otherwise deep body of water.

The ship ran aground in an unexpected shallow.

A fish, the rudd.
Usage notes
Usually used in the plural form.
Verb
(third-person singular simple present shallows, present participle shallowing, simple past and past participle shallowed)
To make or become less deep
Origin
From Middle English schalowe ("not deep, shallow"); apparently related to Old English sceald ("shallow"). See also shoal.
---