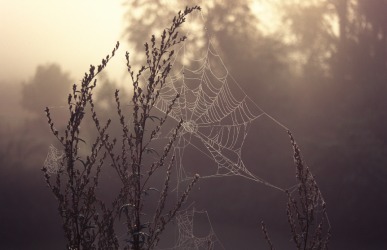 A tenuous spider web.
adjective
The definition of tenuous is something long and thin, fine or flimsy.

An example of tenuous is a single spider web connected by two trees.
---
tenuous
slender or fine, as a fiber
rare, as air at high altitudes; not dense
not substantial; slight; flimsy: tenuous evidence
Origin of tenuous
from Classical Latin
tenuis,
thin + -ous
---
tenuous
adjective
a. Weak or insubstantial; flimsy: a tenuous argument; a tenuous link between pieces of evidence.

b. Precarious or insecure: tenuous survival.

Long and thin; slender: tenuous strands.
Having a thin consistency: Pluto's tenuous envelope of gas.
Origin of tenuous
Latin
tenuis
; see
ten-
in Indo-European roots.
Related Forms:
---
tenuous

Adjective
(comparative more tenuous, superlative most tenuous)
Thin in substance or consistency.

The aether was thought to be of tenuous strands.

insubstantial

His argument was not convincing in the debate, considering how tenuous it was.
---