noun
The definition of a glare is an angry stare, a blinding light or an area of glassy ice.

An example of a glare is a look that a student may get from their teach when misbehaving.
An example of a glare is light from the sun making it difficult to drive.
verb
To glare is defined as to stare at.

An example of to glare is to look at someone for a long time.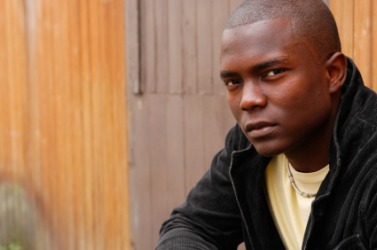 A man glares at the camera.
---
glare
intransitive verb
glared, glaring
to shine with a strong, steady, dazzling light
to be too bright or showy
to stare fiercely or angrily
Origin of glare
Middle English
glaren
; from or akin to Middle Dutch to gleam, glare and amp; Old English
glær
, amber: for Indo-European base see glass
transitive verb
to send forth or express with a glare
noun
a strong, steady, dazzling light or brilliant reflection, as from sunlight
a too bright or dazzling display
a fierce or angry stare
noun
a smooth, bright, glassy surface, as of ice
Origin of glare
probably ; from glare
adjective
smooth, bright, and glassy
---
glare
verb
glared
glared
,
glar·ing
,
glares
verb
, intransitive
To stare fixedly and angrily. See Synonyms at gaze.
To shine intensely and blindingly: A hot sun glared down on the desert.
To be conspicuous; stand out obtrusively: The headline glared from the page.
verb
, transitive
To express by staring angrily: He glared his disapproval.
noun
A fierce or angry stare.

a. An intense, blinding light: under the glare of the spotlights.

b. Overwhelming attention or intrusiveness: the glare of publicity.
Origin of glare
Middle English
glaren
,
to glitter
; akin to Middle Low German
glaren
,
to glisten
; see
ghel-
2
in Indo-European roots.
noun
A sheet or surface of glassy and very slippery ice.
Origin of glare
Probably from
glare
1
.
---
glare
---
glare - Computer Definition
The condition that arises when a telephone line or trunk is seized at both ends for different reasons, perhaps causing the collision between an incoming call and an outgoing call, for example. Glare is a phenomenon associated with loop start signaling used to support single-line telephones, multi-line telephones, and key telephone systems (KTSs).When the handset of the telephone is lifted, the electrical loop is completed and current flows across the circuit.The central office switch detects that fact and returns dial tone for an outgoing call, or connects an incoming call, as appropriate. If the user picks up the handset to place an outgoing call at the same time that the central office switch is attempting to connect an incoming call, a collision, or glare condition, occurs. See also ground start, loop, and loop start.
---