we

we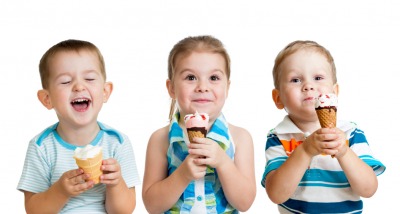 These kids would say "we love ice cream".
pronoun
We is used to show a collective group of people, generally including the speaker or writer.

An example of we used as a pronoun is in the sentence, "Clara and I love dessert; we really enjoy ice cream," which means that Clara and I really enjoy ice cream.
---
we
pronoun
sing.
I
the persons speaking or writing, or the persons on whose behalf someone is speaking or writing: used to refer to the speaker or writer and another or others, sometimes including those addressed: personal pronoun in the first person plural: we is the nominative form, us the objective, ours the possessive, and ourselves (or, by a monarch, etc., ourself ) the reflexive and intensive; our is the possessive pronominal adjective
I: used by a monarch, editor, judge, etc. to indicate that the authority of his or her position or profession is represented
you: used in direct address as in encouraging or admonishing an invalid, a child, etc. [shall we take our medicine now?]
Origin of we
Middle English from OE, akin to German
wir
, Gothic
weis
from Indo-European base an unverified form
we-
, we from source Sanskrit
vayám
We
---
we
pron.
Used by the speaker or writer to indicate the speaker or writer along with another or others as the subject: We made it to the lecture hall on time. We are planning a trip to Arizona this winter.
Used to refer to people in general, including the speaker or writer: "How can we enter the professions and yet remain civilized human beings?" ( Virginia Woolf )
Used instead of I, especially by a writer wishing to reduce or avoid a subjective tone.
Used instead of I, especially by an editorialist, in expressing the opinion or point of view of a publication's management.
Used instead of I by a sovereign in formal address to refer to himself or herself.
Used instead of you in direct address, especially to imply a patronizing camaraderie with the addressee: How are we feeling today?
Origin of we
Middle English
from
Old English
wē
; see
we-
in Indo-European roots.
Usage Note: Appositive nouns or noun phrases sometimes lead writers and speakers to choose incorrect pronoun forms. Thus us is frequently found in constructions such as Us owners will have something to say about the contract, where we is required as the subject of the sentence. Less frequently, we is substituted in positions where us should be used, as in For we students, it's a no-win situation. In all cases, the function of the pronoun within the sentence should determine its form, whether or not it is followed by a noun or noun phrase. See Usage Note at be. See Usage Note at I 1.
---
we

Pronoun
(first-person plural, nominative case, objective case us, reflexive ourselves, possessive our, possessive noun ours)
(personal) The speakers/writers, or the speaker/writer and at least one other person.
(personal) The speaker/writer alone. (The use of we in the singular is the editorial we, used by writers and others, including royalty""the royal we""as a less personal substitute for I. The reflexive case of this sense of we is ourself.)
(personal) Plural form of you, including everyone being addressed.

How are we all tonight?
Usage notes
The meaning of you, plural is generally restricted to specific contexts such as where a server is addressing a table of guests in a restaurant.
Determiner
The speakers/writers, or the speaker/writer and at least one other person.

We Canadians like to think of ourselves as different.
Origin
From Middle English, from Old English wÄ" ("we"), from Proto-Germanic *wÄ«z, *wiz ("we"), from Proto-Indo-European *wéy ("we (plural)"). Cognate with Scots wee, we ("we"), North Frisian we ("we"), West Frisian wy ("we"), Low German wi ("we"), Dutch we, wij ("we"), German wir ("we"), Danish, Swedish and Norwegian vi ("we"), Icelandic vér, við ("we").
---
we - Computer Definition
---