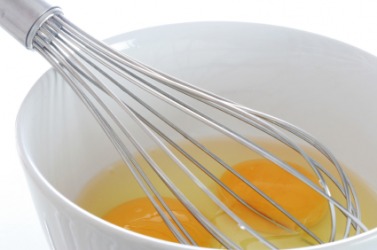 A whisk in a bowl of eggs.
noun
The definition of a whisk is a kitchen action where you mix in a quick sweeping motion or a gadget with wire loops.

An example of a whisk is a kitchen gadget you use to mix eggs before you scramble them.
verb
To whisk is defined as to move something or someone very quickly, or to beat or mix foods using a special kitchen tool, also called a whisk.

An example of whisk is when you quickly clear away clutter.
An example of whisk is when you beat eggs before you scramble them.
---
whisk
the act of brushing with a quick, light, sweeping motion
such a motion

a small bunch of straw, twigs, hair, etc. used for brushing
a kitchen utensil consisting of wire loops fixed in a handle, for whipping egg whites, cream, etc.
Origin of whisk
Middle English
wisk
from Old Norse
visk
, wisp, brush from Indo-European an unverified form
weisk-
( from an unverified form
weis-
, supple twig, broom) from source German
wischen
, to wipe
to move, remove, carry, brush (away, off, out, etc.) forcefully and speedily, as with a quick, sweeping motion: to whisk out a handkerchief, to whisk off crumbs
to whip (egg whites, cream, etc.)
to move quickly, nimbly, or briskly
---
whisk
verb
whisked, whisk·ing, whisks
verb
transitive
To move or cause to move with quick light sweeping motions: whisked crumbs off the table; whisked the children away.
To whip (eggs or cream).
verb
intransitive
To move lightly, nimbly, and rapidly.
noun
A quick light sweeping motion.
A whiskbroom.
A small bunch, as of twigs or hair, attached to a handle and used in brushing.
A kitchen utensil, usually in the form of stiff, thin wire loops attached to a handle, used for whipping foodstuffs.
Origin of whisk
Middle English
wisken
of Scandinavian origin
whisk
---
whisk

---