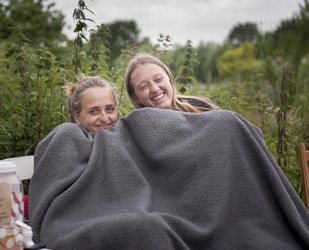 Susan and Emma had to scoot closer together to fit under the blanket.
noun
The definition of a scoot is a quick movement.

An example of a scoot is a quick jump from one chair to the next.
verb
Scoot is defined as to quickly move or hurry.

An example of scoot is to run to the store.
---
scoot
to go or move quickly; hurry (off); dart
to slide as with short, jerky movements, esp. while seated: often with over: scoot over and make room for me on the bench
Origin of scoot
probably via dialect, dialectal from Old Norse
skj?ta
, to shoot
to move or slide (something) quickly: often with over
---
scoot
verb
scoot·ed, scoot·ing, scoots
verb
intransitive
To move or go suddenly and speedily; hurry.
verb
transitive
Upper Southern US To squirt with water: "I know I wouldn't scoot down no hog with no hose" ( Flannery O'Connor )
Phrasal Verbs:
scoot over
To move or slide to the side:
Scoot that chair over.
Origin of scoot
Scots
to eject, squirt
probably of Scandinavian origin
Old Norse
skjōta
to shoot
Related Forms:
Our Living Language
The verb
scoot,
meaning "to squirt with water," arose in the American Midlands. Two derived senses, both intransitive verbs, have become more widely known: "to slide suddenly across a surface" and "to move quickly":
The mouse scooted across the floor.
The phrasal verb
scoot over,
meaning, in its transitive sense, "to push (someone or something) to the side to make room," also arose in the Midlands but has spread throughout much of the country.
---
scoot

Verb
(third-person singular simple present scoots, present participle scooting, simple past and past participle scooted)
To walk fast; to go quickly; to run away hastily.

They scooted over to the window.

To ride on a scooter.
(of an animal) To move with the forelegs while sitting, so that the floor rubs against its rear end.

The dog was scooting all over our new carpet.
---