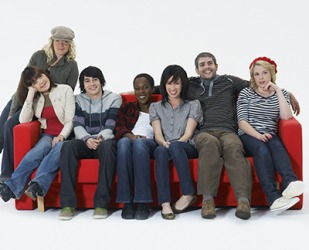 The group of friends had to scooch closer together to fit everyone on the couch for the photo.
verb
The definition of a scooch is moving a small amount or distance.

An example of scooch is the slight movement on a couch to make room for another person.
---
scooch
to hunch or draw oneself up and move (through, down, etc.); scrunch: she scooched through the window and unlocked the door; he scooched down in his chair
to slide as with short, jerky movements, esp. while seated: scooch over and make room for me on the bench
---
scooch
intransitive verb
scooched, scooch·ing, scooch·es
To move a short way, especially by making short sliding movements when sitting or lying down: Scooch over and make room for another passenger.
To crouch down.
noun
A small degree, portion, or amount; a bit.
Origin of scooch
Alteration
(perhaps influenced by
scoot
)of
scrooch
---
scooch

Verb
(third-person singular simple present scooches, present participle scooching, simple past and past participle scooched)
(US) To shift, move aside, or scoot over.
To crouch.
Origin
A variation of scouch. The first sense is probably influenced by scoot.
---