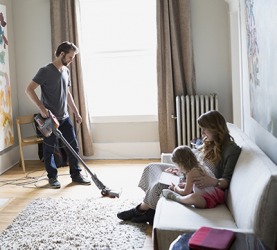 Wendy and her daughter had to scootch over on the couch so her husband could vacuum that area.
verb
To scootch, frequently spelled scooch, is to move over a very small distance.

When you slide over to the couch cushion next to the one you are sitting on, this is an example of a situation where you scootch.
---
scootch
[Informal] alt. sp. of scooch
---
scootch

Verb
(third-person singular simple present scootches, present participle scootching, simple past and past participle scootched)
Alternative spelling of scooch.
---