coast

coast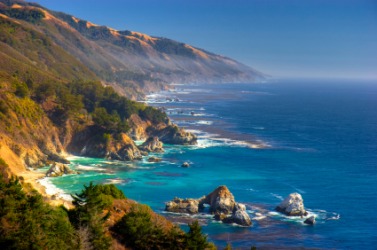 A portion of the California coast.
noun
The definition of coast means land along the ocean.

An example of a coast is a beach.
verb
Coast means to sail along or near an oceanside, to slide down an incline.

An example of coast is to ride a sailboat through the waters near a beach.
An example of coast is to sled down a hill.
---
coast
land alongside the sea; seashore

Obs.

frontier; borderland

Origin of coast

< CdnFr, hillside, slope an incline down which a slide is taken
a slide or ride, as on a sled going down an incline by the force of gravity
Origin of coast
Middle English
coste
, coast from OFr, a rib, hill, shore, coast from Classical Latin
costa
, a rib, side
to sail near or along a coast, esp. from port to port
to go down an incline, as on a sled
to continue in motion on momentum or by the force of gravity after propelling power has stopped
to continue without serious effort, letting one's past efforts carry one along
to sail along or near the coast of
the Coast
Informal
in the U.S., the Pacific coast
the coast is clear
there is no apparent danger of being caught or observed
---
coast
noun
a. Land next to the sea; the seashore.

b. The water near this land: fish of the Atlantic coast.

c. Coast The Pacific coast of the United States.

A hill or other slope down which one may coast, as on a sled.
The act of sliding or coasting; slide.
Obsolete The frontier or border of a country.
verb
coast·ed, coast·ing, coasts
verb
intransitive
a. To slide down an incline through the effect of gravity.

b.

To move without use of propelling power. See Synonyms at

slide

.

To act or move aimlessly or with little effort: coasted for a few weeks before applying for a job.
Nautical To sail near or along a coast.
verb
transitive
Nautical
To sail or move along the coast or border of.
Origin of coast
Middle English
coste
from
Old French
from
Latin
costa
side
; see
kost-
in Indo-European roots.
Related Forms:
---
coast

Noun
(plural coasts)
The edge of the land where it meets an ocean, sea, gulf, bay, or large lake. [from 14th c.]

The rocky coast of Maine has few beaches.

1621, Robert Burton, The Anatomy of Melancholy, II.ii.3:

P. Crescentius, in his lib. 1 de agric. cap. 5, is very copious in this subject, how a house should be wholesomely sited, in a good coast, good air, wind, etc.
Verb
(third-person singular simple present coasts, present participle coasting, simple past and past participle coasted)
(intransitive) To glide along without adding energy.

When I ran out of gas, fortunately I managed to coast into a nearby gas station.

(intransitive, nautical) To sail along a coast.
Applied to human behavior, to make a minimal effort, to continue to do something in a routine way. This implies lack of initiative and effort.
---
coast - Computer Definition
---