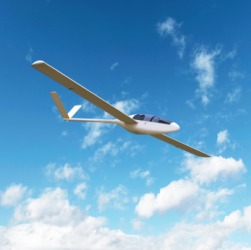 A glider in flight.
---
glider
noun
a person or thing that glides
a heavier-than-air aircraft without an engine, using airflow to produce free flight
☆ a porch seat suspended in a frame so that it can glide or swing back and forth
---
glider
noun
A light engineless aircraft designed to glide after being towed aloft or launched from a catapult.
A swinging couch suspended from a vertical frame.
A device that aids gliding.
Any of several arboreal marsupials that glide through the air by extending large folds of skin on the sides of the body between the forelegs and the hind legs, especially a flying phalanger.
glider
---
glider
---