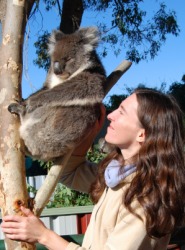 The Koala is arboreal.
adjective
Arboreal is defined as something having the evolutionary characteristics of animals which allow them to live or maneuver through trees.

An example of an arboreal part of the chimpanzee's anatomy is its long arms.

The definition of arboreal is anything referring to trees or something that is like a tree.

An example of something arboreal is a forest.
---
arboreal
of or like a tree
living in trees or adapted for living in trees
Origin of arboreal
Classical Latin
arboreus
, of a tree from
arbor
, tree + -al
---
arboreal
adjective
Relating to or resembling a tree.
Living in trees; arboreous: arboreal apes.
Origin of arboreal
From
Latin
arboreus
from
arbor
tree
Related Forms:
---
arboreal

Noun
(plural arboreals)
Any tree-dwelling creature.
---