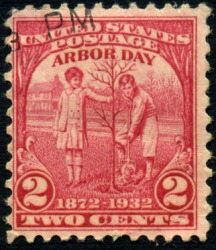 A stamp commemorating Arbor Day.
---
Arbor Day
a tree-planting day observed individually by the states of the U.S., usually in spring
---
Arbor Day
noun
An unofficial US holiday observed most often on the last Friday in April, for the public planting of trees.
---
Arbor Day
Proper noun
(US) (Last Friday in April) The national day of observance of the need to protect trees, celebrated by planting a tree.
---