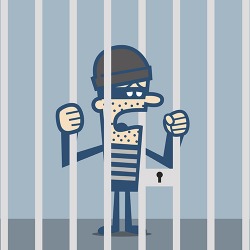 The thief got locked up in the quod for his crimes.
noun
Quod is British slang for jail.

An example of quod is where convicted criminals go if they're caught in London.
---
quod
Brit., Slang
prison; jail
Origin of quod
probably variant, variety of
quad,
contr. from quadrangle (of a prison)
---
quod

Noun
(plural quods)
(countable) A quadrangle or court, as of a prison; a prison.
(uncountable, Australia, slang) Confinement in a prison.
Verb
1563, John Foxe, Actes and Monuments, 1868, The Church Historians of England: Reformation Period, Volume 8, Part 1, page 422,

"Why," quod her friend, "would ye not willingly have gone with your company, if God should so have suffered it?"

1908, James Gairdner, Lollardy and the Reformation in England: An Historical Survey, 2010, Cambridge University Press, page 416,

"And therefore I have granted to their request," quod the King; [...] .
Origin
First attested circa 1700. Origin unknown.
---