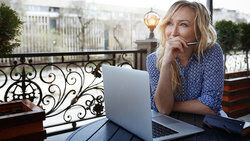 How you start your blog matters. These winning first blog post examples demonstrate how you can build instant readership and set your tone and writing mood right from the start. Get some inspiration so you can welcome your audience the right way.
Example First Blog Posts for a Business
If you're using a blog to promote your company, it's essential that you start off with just the right mix of professionalism and personal appeal. The best first blog post for a business will welcome potential customers and entertain them at the same time.
Founded by Pat Flynn, Smart Passive Income is a very successful blog and podcast about online entrepreneurship. There are books, courses, affiliates, and more. This site is a great internet success story, and it all started with the first blog post (and the second).
In his first post, titled Why I Will Quit My Job for a Passive Income, Flynn writes:
There are many reasons why we all want to quit our 9 to 5 job. But how many reasons are there for you to believe you can honestly do that? The answer is: millions. Millions of dollars, millions of opportunities and millions of ideas are just waiting for people like us to embrace. I've put my foot in the water, and I have to say, the pool is nice and warm - and I plan to dive right in. Are you coming with me?
This is a powerful example of a motivational and inspiring post. It's a great way to launch what would eventually become a highly successful blog. Flynn asks rhetorical questions and has a call to action right in the first paragraph, all while using a great conversational writing style. The real beauty comes with the hilarious follow-up of the second post, however. It's titled Nevermind. I Just Got Laid Off.
Fictional Professional Photography Blog
Imagine you're a professional photographer and want to start a business blog to attract people to your services. The key is to appeal to your audience and their needs, as well as the tone you want to take with your business. Keep it professional with some key personal details thrown in as in this example:
You want to love your family photos for years to come. In addition to choosing a great photographer, it's totally normal to have some questions about this important investment in your future memories. Far and away, the most common question I get before family photo sessions is, "What should we wear?" I'm here to answer this and any other great questions you have in my new blog. Read along to discover how you can make the most of your session.
First Personal Blog Post Examples
A personal blog also needs a strong start. There are a lot of personal blogs out there, and you need to make sure your readers want to stick with yours. The key is to draw them in with an amazing, friendly tone, while providing information about something really valuable and specific. Nab them with instant appeal, and keep them coming back for more.
Another great internet success story is The Adventure Blog. This aptly-titled blog covers all aspects of outdoor adventure and travel - from high tech outdoor gear to great travel destinations. It's now a highly successful podcast too. Blogger Kraig Becker started the site in 2006 with a single well-written post, titled Welcome to My Blog!
How many of us have always dreamed about leading An Adventurous Life? Dreamed of traveling to the far corners of the world to experience a completely new culture? Exploring a vast, untamed area, or even just discovering what lies just around the corner on the path ahead?
What works especially well here is Becker's tone, which is friendly and talks directly to the reader. His series of rhetorical questions are compelling and urge the reader to continue reading.
Imagine you are planning to start a parenting blog. You need to find a way to reach your audience that shows your unique perspective and immediately conveys the tone you plan to use in your posts. For instance, this welcome blog post sample uses humor to charm the reader and make the blog relatable:
Have you ever selflessly nursed a child through the stomach flu only to be struck down yourself the next day? As my little demon slept peacefully in his bed, I lay moaning on the floor of the living room, resting less than comfortably on the scattered Legos that perpetually decorate the carpet. "What," I asked my fevered self, "can I do with all this wisdom I've gained as a mother?" And that's why we're here, dear reader! Welcome to my parenting blog!
Tips for Writing Your First Blog Post
Your first blog post is important. It represents the start of your blog and introduces readers to your work. Writing your own first blog post is easy if you keep a few important tips in mind:
Know what your blog will be about. Have an idea of the first few posts so you can hint at your future trajectory in your welcome post.
Create a personal connection. You can do this by talking about your life, using a casual or humorous tone, or sharing your personality in some other way.
Strike the right tone right away. Create a relatable blog post introduction and continue this tone throughout your first post.
Know your audience. Who will be reading your posts? What does this person want to hear? What can you offer this reader?
Think about where you see this blog in six months. Then, write toward that long-term goal.
Tell the reader about yourself. People want to know who you are and why they should be reading your blog.
On Your Way to Blogging Success
Whether you're creating a blog to promote your business or writing a blog for students, the best first post is one that will engage your readers and make them want to read more. If you can accomplish that, you'll be well on your way to blogging success.