adjective
The definition of iron is something that is strong and enduring.

An example of iron used as an adjective is an iron will, a strong will.
noun
Iron is defined as an element used to create a strong metal, that can be magnetized, that rusts in moist air and that naturally occurs in the blood.

Facts About Iron

The element iron is a silvery gray color when it is mined.
It can quickly turn a rusty color.
Its symbol is Fe, for the Latin word "ferrum."
It boils at 5182° F and melts at 2800° F
The Earth's crust is made of 5% iron, and scientists believe that nearly all of the earth's core is made of iron.
It is the iron oxide, or rust, which gives the planet Mars its reddish color.
Sources for iron are the minerals magnetite, hematite, taconite, siderite, and limonite.
Compared to other elements, iron is fairly abundant in the universe; in fact, it is the sixth most abundant element.
It is found in a few classes of meteorites and in abundance in many stars and planets. The Earth's core is mostly iron and it is the fourth most common element found in the Earth's crust.
Iron is formed during nucleosynthesis in stars, which is the process of creating new atomic nuclei from protons and neutrons.
Iron is necessary for plant and animal life. It is present in the hemoglobin molecule and assists plants in the manufacture of chlorophyll.
People have been using iron for over 5,000 years. It became popular with early cultures in part because it is abundant and because it was stronger than the bronze it replaced.

An example of iron is a silvery gray metal used to make steel.
An example of iron is what you need if you are anemic.

The definition of an iron is a heated tool used to press flat or brand animals.

An example of an iron is a heated curler for styling hair.
An example of an iron is a flat bottomed household appliance that can smooth and press cloth.
verb
To iron is defined as to press something flat using a heated, heavy tool.

An example of iron is to get the wrinkles out a shirt.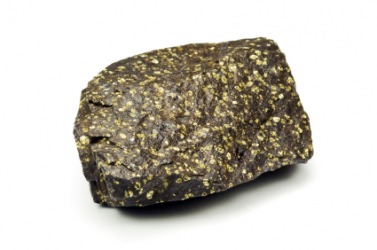 A piece of iron ore.
---
iron
noun
a white, malleable, ductile, metallic chemical element that can be readily magnetized, rusts rapidly in moist or salty air, and is vital to plant and animal life: it is the most common and important of all metals, and its alloys, as steel, are extensively used: symbol, Fe; at. no., 26
any tool, implement, device, apparatus, etc. made of iron, as

a device with a handle and flat, smooth undersurface, used, when heated, for pressing clothes or cloth; flatiron
a rodlike device with a brand at one end, heated for branding cattle

iron shackles or chains
firm strength; power

Slang

a pistol

Golf

any of a set of numbered clubs with metal heads having various lofts; specif., the with little loft, used chiefly for relatively long fairway shots; the with medium loft; and the with much loft, used chiefly for short, lofted shots to the green

Med.

a tonic or other preparation containing iron
Origin of iron
Middle English
iren
; from Old English (chiefly poetic and amp; probably dissimilated), variant, variety of
isern, isen
akin to Gothic
eisarn
) ; from Germanic an unverified form
īsarna
, akin to early Celtic an unverified form
isarno
, probably via Illyrian an unverified form
eisarno-
; from Indo-European base an unverified form
eis-
, to move vigorously; strong, holy (from source ire): origin, originally sense probably "the strong metal," in contrast to the softer bronze
adjective
of or consisting of iron
like iron, as

firm; unyielding: an iron will
capable of great endurance; strong: an iron constitution

cruel; merciless
transitive verb
to furnish or cover with iron
to put (a prisoner) in irons
to press (clothes or cloth) smooth or flat with a hot iron
intransitive verb
to iron clothes or cloth
have many (or several, etc.) irons in the fire
to have or be engaged in many (or several, etc.) activities, enterprises, or the like
in irons
shackled with irons; imprisoned

Naut.

headed into the wind with no way on: said of a sailing vessel that has failed to come about
strike while the iron is hot
to act at the opportune time
---
iron
noun
Symbol Fe A silvery-white, lustrous, malleable, ductile, magnetic or magnetizable, metallic element occurring abundantly in combined forms, notably in hematite, limonite, magnetite, and taconite, and used alloyed in a wide range of important structural materials. Atomic number 26; atomic weight 55.845; melting point 1,538°C; boiling point 2,861°C; specific gravity 7.874 (at 20°C); valence 2, 3, 4, 6. See Periodic Table.
An implement made of iron alloy or similar metal, especially a bar heated for use in branding, curling hair, or cauterizing.
Great hardness or strength; firmness: a will of iron.
Sports Any of a series of golf clubs having a bladelike metal head and numbered from one to nine in order of increasing loft.
A metal appliance with a handle and a weighted flat bottom, used when heated to press wrinkles from fabric.
A harpoon.
irons Fetters; shackles.
A tonic, pill, or other medication containing iron and taken as a dietary supplement.
adjective
Made of or containing iron: iron bars; an iron alloy.
Strong, healthy, and capable of great endurance: an iron constitution.
Inflexible; unyielding: iron resolve.
Holding tightly; very firm: has an iron grip.
verb
i·roned
,
i·ron·ing
,
i·rons
verb
, transitive
a. To press and smooth with a heated iron: iron clothes.

b. To remove (creases) by pressing.

To put into irons; fetter.
To fit or clad with iron.
verb
, intransitive
To iron clothes.
Phrasal Verb:
iron out
To settle through discussion or compromise; work out.
Origin of iron
Middle English
iren
, from Old English
īren
; see
eis-
in Indo-European roots.
---
iron
Noun
(countable and uncountable, plural irons)
(uncountable) A common, inexpensive metal, often black in color, that rusts, is attracted by magnets, and is used in making steel.
(uncountable, physics, chemistry, metallurgy) A metallic chemical element having atomic number 26 and symbol Fe.
(uncountable, countable, metallurgy) Any material, not a steel, predominantly made of elemental iron.

wrought iron, ductile iron, cast iron, pig iron, gray iron

(countable) A tool or appliance made of metal, which is heated and then used to transfer heat to something else; most often a thick piece of metal fitted with a handle and having a flat, roughly triangular bottom, which is heated and used to press wrinkles from clothing, and now usually containing an electrical heating apparatus.
(usually plural, irons) Shackles.
(slang) A handgun.
(Cockney rhyming slang, shortened from iron hoof, rhyming with poof; countable, offensive) A male homosexual.
(golf) A golf club used for middle-distance shots.
(uncountable) Great strength or power.
Adjective
(comparative more iron, superlative most iron)
(not comparable) Made of the metal iron.
(figuratively) Strong (as of will), inflexible.

She had an iron will.
He held on with an iron grip.
an iron constitution
Verb
(third-person singular simple present irons, present participle ironing, simple past and past participle ironed)
To pass an iron over (clothing or some other item made of cloth) in order to remove creases.
Origin
From Middle English iren, a rhotacism of Old English īsern, īsærn, īren, īsen, from Proto-Germanic *īsarną (compare Dutch ijzer, West Frisian izer, German Eisen, Danish jern), from Gaulish īsarno-, from Proto-Celtic *īsarno- (compare Welsh haearn, Irish iarann), from Proto-Indo-European *h₁ésh₂r̥ ("blood") (compare Hittite (ešḫar), Tocharian A ysār, Latvian asinis, Ancient Greek ἔαρ (ear), Old Armenian արիւն (ariwn), Sanskrit असृज् (asṛj)). The sense development runs from 'blood' to 'blood red' to 'ruddy metal'.
---